Chief Marketing Officer of Curve Dental Inc., Andy Jensen, joins us as today's guest blogger to discuss the enormous benefits that the cloud provides to dentistry practices of all sizes. Curve Dental is a leading provider of cloud-based practice management software for dentists, and a Bluefin integrated payment processing partner.
Strange, yet marvelous things are happening in the dental profession. Generally speaking, dentists have a love-hate relationship with the cloud. On the one hand, doctors do all the normal cloud computing you'd expect from normal netizens: shopping, socializing, banking, trading, dating, and traveling. Like most people, dentists are cloud computing every day – except at the office.
For a number of different reasons – which I'll discuss momentarily – dentists are under the impression that as soon as they step over that threshold, from outside world to inside the practice, cloud computing is not a viable platform for managing the practice. Fear, Uncertainty, and Doubt (or F.U.D.) is the main culprit behind dentistry's slower-than-average adoption of the cloud. And perhaps the biggest distributor of F.U.D. are the mammoth dental suppliers with their massive number of sales representatives, all duly commissioned on the sales of out-of-date client-server software. While their cousins on the medical side have readily adopted cloud computing to manage the health clinic, dentists have wavered.
But that's changing.
In a recent survey conducted by Dental Products Report magazine some astonishing numbers begin to emerge. More than half the respondents reported that they intend to move their practices to the cloud within three years (nearly 70% said they'd be on the cloud within five years; send me a note if you'd like to see the survey results). The results of the survey signal the start of a great migration to the cloud for dentists across the country.
Why the change in direction? I can think of ten reasons, which don't represent any new thinking, but the message is perhaps finally burning through the F.U.D. haze. Consider the following:
Always the Latest and Greatest
Web-based dental software install upgrades overnight (or like Curve Dental's software can be updated on the fly without bringing the system down). As a result the end user doesn't experience a disruption to the business, which could affect productivity and profits. Whenever you log in to use the software you have immediate access to the latest and greatest features and enhancements. What's more, these enhancements are part of the service subscription.
Available 24/7/365
An inability to provide service to a customer because your server crashed is a business killer. With your business on the cloud you don't have to worry about maintaining a pesky server. Most cloud-based software comes with some type of service statement. At Curve Dental we pledge to deliver a 99.95% up time service standard. The bottom line here is that you'll be able to access customer information when you really need it.
Say "Goodbye" to Backups
It's not that you don't need a backup—you really do. It's just that your backup has a 50% chance of failing. Plus, it's a hassle to setup backup plans and verify that they're working. In contract, a cloud-based system handles all backup operations for you. At Curve Dental our customers' data is backed up onto multiple servers in multiple geographical locations with every change in data. Some services are backup hourly; we do it as the change happens.
Avoid Expensive Servers
As I mentioned earlier, a cloud-based system does not require a local server, which saves you money. And if there's no server then you also avoid the expense that comes with maintaining a server. All that is required is basic computer (or laptop) and an Internet connection. If you have access to the Internt you have access to your customer information.
No Up-front Software Fees
In the dental profession, practice management software comes with a hefty licensing fee, upwards of $7,000. Curve Dental is working to change that thinking. We charge a monthly, all-inclusive subscription that is easier on the pocketbook and a better fit for cash flow. The monthly subscription includes the licensing fee, customer service, upgrades, data backup, and more.
Save Money. Make Money.
Like an iceberg, most of the costs of traditional legacy software are out of sight and below the waterline. That doesn't mean you don't pay for them; you just don't see them. For example, IT service calls, software maintenance, hardware upgrades, staff time for installing upgrades are just a few of the hidden costs of legacy systems. Cloud-based systems eliminate those costs, which can save you money, which can be redirected to revenue-producing activities instead.
Avoid Implementation Hassles
Traditional software requires installation on every computer in your business. That takes time. After installation the software will need to be configured. That takes more time. The cloud is such that installation and configuration requires on two things: A username and a password. Click. Done.
Work from Anywhere at Anytime
Work style habits are changing to mirror our own particular lifestyles. Working remotely is important to many people because it allows them to be more productive, more creative, or better able to balance motherhood with a career, as an example. For some businesses, working remote is a conservation issue, allowing them to contribute less to commuting traffic. The cloud is the perfect fit because all that's required to access the system is an Internet connection. And just as important, the user experience is the same whether you're working at home, at the pool, in the coffee shop, or at work.
Better Customer Service
Remember those days when contacting customer service meant pulling out your wallet? That's not necessarily the case with cloud-based software because the customer service should be included with the monthly subscription. While that's a plus, the bigger win is the that your questions can be resolved more quickly because the support technician can access your account and see and experience firsthand what you're up against (rather than your trying to describe it over the phone).
Better Legislative Compliance
Most industries are affected to varying degrees by legislative requirements. For dentists in particular, having patient information stored on a server in the practice represents a significant liability. If that server is stolen or the data is lost due to hardware error the ramifications can cripple the business for many, many months. The liability is removed completely when the data resides on the cloud. Of course the business owner retains ultimate responsibility for the data, but benefits from professional hosting of the data rather than relying upon their own auspices.
For the end user, the advent of cloud computing represents a refreshing new level of convenience and flexibility. And the sooner we get the F.U.D. out of the way the sooner a business can benefit from the cloud.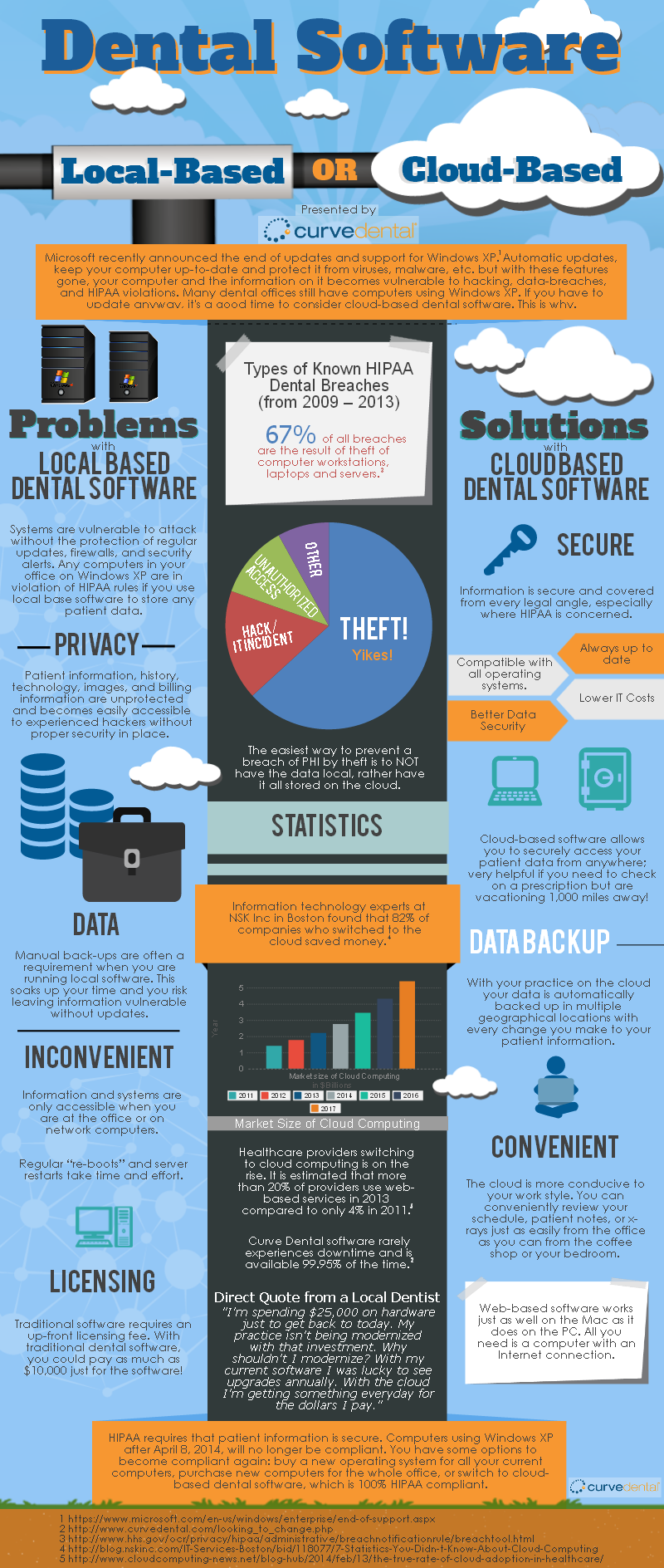 About Andy Jensen

Andy Jensen is VP and CMO at Curve Dental, Inc., a developer of cloud-based practice management software for dentists. Andy has more than 20 years of experience in the dental software business. He can be reached at andy.jensen@curvedental.com.