On July 19, 1910, the governor of the U.S. state of Washington proclaimed the nation's first "Father's Day." However, it was not until 1972, 58 years after President Woodrow Wilson made Mother's Day official, that the day became a nationwide holiday in the United States.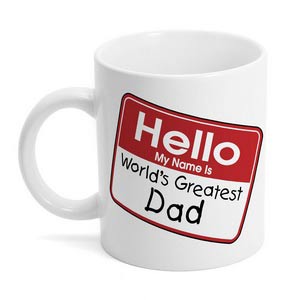 Sunday, June 19th marks this year's Father's Day, and like every year since 1910, the age old question rears its puzzling head for most of us – what are we going to get Dad this year? We rack our brains trying to come up with the perfect Father's Day gift, knowing all along that this holiday always takes a back seat to Mother's Day.
Or does it? According to the National Retail Federation's annual Father's Day survey, consumers plan to splurge on Dad more than ever, with an average of $125.92 per customer and an overall projected spending of $14 billion. That's a LOT of coffee mugs.
I mean, we know better than to mess up Mother's Day – the phrase If Momma isn't happy, no one is happy comes to mind – or else we may end up missing a home-cooked meal or two. But Dads always seem to be happy with whatever they get. It's true that a coffee mug that says "World's Greatest Dad" is sure to make him smile but obviously we are doing much better than that if Dads are getting an average of $126 in gifts!
Father's Day Favorites
What does Dad really want for Father's Day anyway? A quick Google search and you will find the top gifts for Dad the Outdoorsman, DIY Dads, gifts for new Dad's, and even a list of gifts that Dads say they would want. The options are plenty, and NRF's survey of 7,200 consumers found that four categories—special outings, clothing, gift cards and consumer electronics—showed the greatest spending amounts for Father's Day.
According to NRF, 47% plan to give their dads brunch or game tickets and combined, the predicted spending amount for special outings is $3.1 billion this year. Clothing (given by 43%) and gift cards (given by 41%) tied at a predicted total of approximately $2 billion this year. Consumer electronics, given by 20%, placed fourth for predicted spending at a total of $1.7 billion this year. Greeting cards are the most popular gift on Father's Day (65%), but placed last at a predicted spending amount of $833 million this year.
"Although these numbers pale in comparison to the more than $626 billion consumers spend during the holiday season, for many brands the 'parental holidays' represent a significant source of revenue during an otherwise uneventful time of year," says Ivy Shtereva, director of marketing at Yes Lifecycle Marketing."Our own data and analysis suggest that, while Father's Day still brings in less revenue than Mother's Day, it's gaining traction with consumers."
NRF's President and CEO, Matthew Shay, agrees that the numbers are encouraging, stating that the increase could be a sign related to consumers' willingness to spend more as we head into the second half of the year.
The Search for the Perfect Gift = The Omni-Channel Experience
Other questions to consider besides what to get Dad is where to find it and how to purchase it. More than ever, consumers have multiple options to shop for goods, and while consumers are still searching for gifts in stores (38 %), online shopping follows closely as a popular option (32%) in selecting Dad's Father's Day gift.
Ecommerce is changing the way consumers shop, as these "stores" are at everyone's fingertips and shoppers can browse, research and purchase goods via their mobile phone, tablet or desktop instead of driving anywhere.
Today's mobile shoppers are actually changing the face of retail itself – as online retail sales have globally increased 17% yearly since 2007. UPS's 2015 "Pulse of the Online Shopper" study provides support for this growth trend, showing that 51% of the study's respondents made purchases in 2015 by using their smartphone.
But as online shopping soars, the in-store experience is still important to many consumers. "This year's UPS study revealed that 45 percent of online shoppers love the thrill of hunting for and finding great deals, and that physical stores continue to play an important role in that experience. The challenge is how to best engage with shoppers to fulfill their desires," UPS chief marketing officer, Teresa Finley, said."
Many retailers seem to be up for the challenge of finding an omni-channel balance to meet consumer demands. Once traditional retailers are now adopting ecommerce platforms, developing marketing strategies that mix with social media, and creating store concepts that allow a fluid consumer transition from online and in-person purchasing opportunities.
Payment Security Still Counts for Dad
As the retail industry continues to change at record-speed pace, even the savviest retailer finds themselves in a world where consumer loyalty is measured in competitive prices, free delivery, excellent customer service, and let's not forget – easy and secure payment options.
The payment piece of online shopping is often an afterthought to retailers and consumers alike, but as too many breached retailers can attest, the need for secure payments is not only vital to their customers, it imperative for a retailer's survival – and this goes for all types of retailers: ecommerce, traditional, large or small.
Bluefin Payment Systems offer a complete suite of products for today's omni-channel retailer – including point of sale devices, mobile point of sale, call center, and kiosk or unattended – all backed by Bluefin's PCI-validated P2PE solution. Bluefin's P2PE encrypts cardholder data, preventing clear-text cardholder data from being present in a retailer's system or network where is could be accessible in the event of a data breach.
Bluefin's P2PE allows today's omni-channel retailers to focus on their customers, and as consumers shop for Dad this week, they can rest easy knowing that their card data is safe and secure.