Let's hope the new year brings a fresh start for cybersecurity. In 2019 alone, hackers exposed billions of private records, from credit card numbers and passwords to SSNs and medical histories.
As we head into a new decade, let's not forget the major data breaches of 2019 — and what we can learn from them.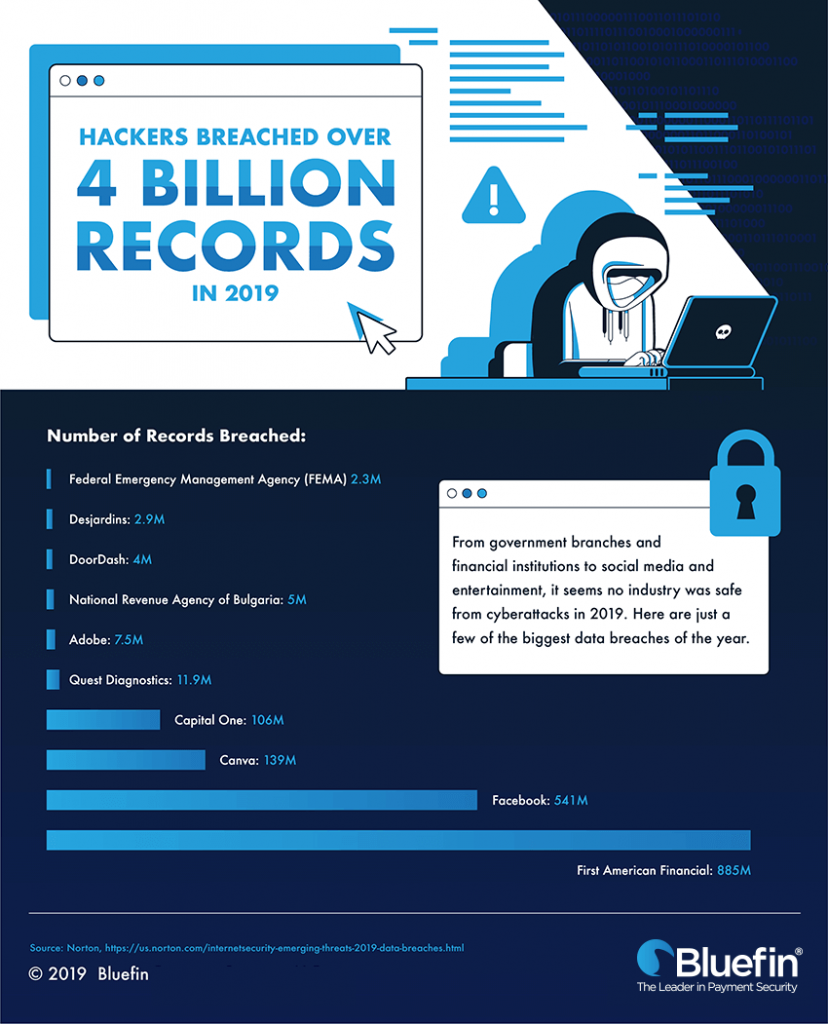 Hackers breached over 4 billion records in 2019.*
From government branches and financial institutions to social media and entertainment, it seems no industry was safe from cyberattacks in 2019.
First American Financial
Records Breached: 885 million
Facebook
Records Breached: 541 million
Canva
Records Breached: 139 million
Capital One
Records Breached: 106 million
Quest Diagnostics
Records Breached: 11.9 million
Adobe
Records Breached: 7.5 million
National Revenue Agency of Bulgaria
Records Breached: 5 million
DoorDash
Records Breached: 4 million
Desjardins
Records Breached: 2.9 million
Federal Emergency Management Agency (FEMA)
Records Breached 2.3 million
MoviePass
Records Breached: Unknown
Learn more about how Bluefin protects point-of-sale payment data with our PCI-validated point-to-point encryption (P2PE) solutions and online PII, PHI and financial information with our ShieldConex® data security platform.
*Source: Norton, https://us.norton.com/internetsecurity-emerging-threats-2019-data-breaches.html.