More than Just Tuition Payment Processing
Paying for tuition, books, athletics and even meals on campus has changed drastically in the last 20 years. Gone are the days of quarterly checks sent in the mail for semester payments or dining plans. Today, parents and students require the convenience of paying online, over the phone, and in person.
But as electronic payment acceptance in universities has risen – so too has fraudsters' interest in the vast amounts of data that universities are now processing through multiple departments and locations. According to the ITRC, in 2018, there were over 76 recorded data breaches in higher education compromising over 1.4 million records. The leading attack vector remains hacking – specifically, ransomware and malware – to locate sensitive personal and financial data which can be resold on the black market.
Bluefin's PCI-validated P2PE solutions encrypt cardholder data at the Point of Interaction (POI) in a PCI approved P2PE device and decryption is done in an approved Bluefin Hardware Security Module (HSM) located outside of the university's payment processing environment. Our payment security solutions for schools prevents clear-text cardholder data from being present in a university's system or network where it could be accessible in the event of a data breach. Bluefin offers a full suite of P2PE payment products to meet the needs of today's educational institutions. Learn more about P2PE on our FAQs page.
Webinar
Securing Your Campus Payments with PCI-Validated P2PE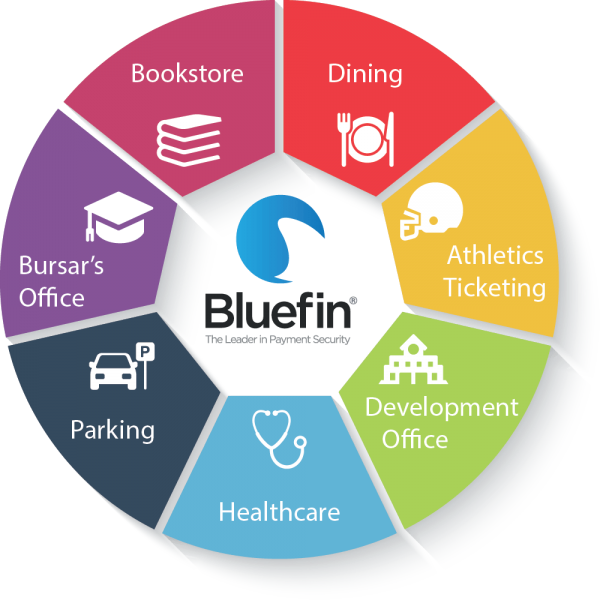 Bluefin's PCI-validated P2PE solutions cover all of your campus payments - and devalue your card payment data
Bluefin Provides PCI-Validated P2PE through our PayConex Gateway or our Network of Decryptx Partners
AceWare
Agile Ticketing
AIMS Parking
AudienceView
Blackbaud
Blackboard/Cashnet
Campus Call/Ruffalo Noel Levitz
Choice Ticketing
CyberSource
Destiny Solutions
Epic Systems
Flywire
FroogalPay
GiftLogic
Glitnir Ticketing
iModules
ITC Systems
MerchantLink/Micros
Nelnet
NeuLion
Paciolan
PatronManager
Seattle Tech
TicketReturn
University Tickets
VisualZen
View our P2PE Devices for mobile, countertop and unattended payments