"As data breaches and other forms of cybercrime become more prevalent and sophisticated, it's important for everyone to understand the role they can play in promoting a safer, more secure and more trusted internet. NCSA, DHS and our partners around the world are excited to make this National Cyber Security Awareness Month the most impactful and far-reaching one yet."  NCSA Executive Director Michael Kaiser.
October is National Cyber Security Awareness Month (NCSAM), created as a joint effort between government and industry with the goal of educating consumers and businesses nationwide on online safety and security. The National Cyber Security Alliance (NCSA) and the U.S. Department of Homeland Security (DHS), the co-leaders of NCSAM, along with companies around the globe, are working to provide awareness of potential cyber threats as well as ways to stay safe from them.
Cybersecurity awareness has never been more important than right now. From government hacks, to ransomware attempts, to malware data breaches, cyber fraud is at an all-time high and cyber criminals will not leave one stone unturned in their search for profit or power. No one is immune and the cyber thieves know no boundaries, and this realization is a big part of why everyone is coming together to create more global awareness.
FBI Director James Comey recently testified before Congress, stressing the importance of cyber security in our current market, stating that "the pervasiveness of the cyber threat is such that the FBI and other intelligence, military, homeland security, and law enforcement agencies across the government view cyber security and cyberattacks as a top priority." Comey went on to acknowledge that in order to stop malicious cyber activity, a collaborative effort between domestic, international, and private sectors is imperative. The alignment of all three prevalent in 2016's NCSAM month-long campaign.
Cyber Security Awareness, Education and Commitment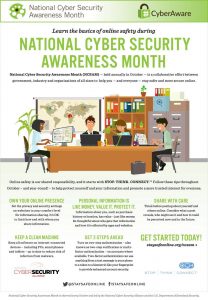 This year, NCSAM's campaign, appropriately named, STOP. THINK. CONNECT™, was developed to offer global online education and awareness. The campaign provides advice and safety precautions for any internet user to follow – keeping users mindful that whatever actions taken online can have consequences. Check out this infographic on best online safety tips.
Taking awareness to the next level – commitment – NCSAM has also developed a Champions program, to assist in spreading the message of NCSAM and STOP. THINK. CONNECT™. NCSAM Champions provides a simple way for any business or individual to commit to being proactive in protecting themselves online. Over 350 organizations and 200 individuals have registered for the Champions program.
Learn more about ways to stay safe online here, and have a happy NCSAM!