This third week, the theme is "Today's Predictions for Tomorrow's Internet." The Internet of Things (IoT) continues to expand as more of our "things" — in our homes, our cars, and our pockets or purses — include chips, tags, or sensors that are ready to connect to the digital world. There's no denying that new devices are fun, but while there are more opportunities to interact with people, share information, and stay connected, we also need to be aware of the risks these things may introduce.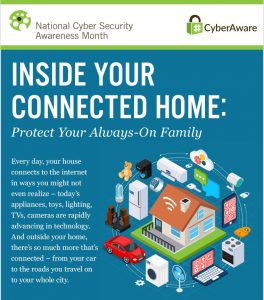 The National Cyber Security Alliance offers suggestions on how to "own your online presence" in their downloadable infograph Inside Your Connected Home: Protect Your Always-On Family. The infograph reminds us that personal data is the fuel that makes smart devices work, and staying vigilant in securing connected devices is vital to keeping your "always on" family safe.
NCSA's Top STOP. THINK. CONNECT.™ Tips for Your Increasingly Connected Life
Co-founded and led by the National Cyber Security Alliance (NCSA) and the U.S. Department of Homeland Security (DHS), NCSAM identifies and promotes security, safety and privacy strategies, with the knowledge that organizations and consumers alike are having a difficult time keeping pace with sophisticated cyber thieves.
"Attackers have fully embraced the use of cloud, task automation and orchestration, while enterprises are stuck using spreadsheets and manual labor to respond to threats," said Brendan O'Connor, security chief technology officer at ServiceNow. "Enterprises need to use the same class of technology to defend themselves that bad actors are using to attack. Refinement of breakthrough technologies – such as intelligent automation – as part of security response strategy will play a huge role in the advancement of cybersecurity."
Rapidly advancing technology brings countless potential opportunities, but it's important to remember to STOP. THINK. CONNECT.™ NCSA recommends following these tips to enjoy the benefits of cutting-edge tech with more peace of mind:
Learn how to safeguard your IoT devices: Protecting devices like wearables and smart appliances can be different than securing your computer or smartphone. Research how to keep an IoT device secure before you purchase it, and take steps to safeguard your device over time.
Pay attention to the Wi-Fi router in your home: Use a strong password to protect the device, keep it up to date, and name it in a way that won't let people know it's in your house.
Delete when done: Many of us download apps for specific purposes or have apps that are no longer useful or interesting to us. It's a good security practice to delete apps you no longer use.
Own your online presence: Understand what information your devices collect and how it's managed and stored – and set the privacy and security settings on devices to your comfort level for information sharing.
Research before you buy: Before adopting a new smart device, do your research to make sure others have had positive experiences from a security and privacy perspective.
Lock down your login: Fortify your online accounts by enabling the strongest authentication tools available, such as biometrics, security keys or a unique one-time code through an app on your mobile device. Your usernames and passwords are not enough to protect key accounts like email, banking and social media.
Data Security for Organizations
For organizations, data is money, and a recent infographic presented by SolarWinds reveals that the cost per downtime is $26,000 per hour. SolarWinds suggests that in order to keep your organization financially healthy, you must treat your data like a bank would treat its money – with multiple layers by:
Denying them at the gate with firewalls that include user permission, credential password management and monitoring
Keeping watch at the front door – patch operating systems and third-party applications often use antivirus alerts and quarantine files to remove potential threats from your networks
Have a strong back up vault – store copies on two separate places, retain the original file plus two backups, and keep one back up off site
Additionally, data encryption can devalue the data "at the gate, front door, or backup vault." Bluefin's PCI-validated P2PE solutions encrypt cardholder data at the Point of Interaction (POI), preventing clear-text cardholder data from being present in a merchant or enterprise's system or network where it could be accessible in the event of a data breach.
You can support the 7th anniversary of STOP. THINK. CONNECT.™ – and join more than 750 organizations in promoting the global online safety awareness and education campaign – by registering your organization as a STOP. THINK. CONNECT.™ partner.