Introducing the New P2PE Manager®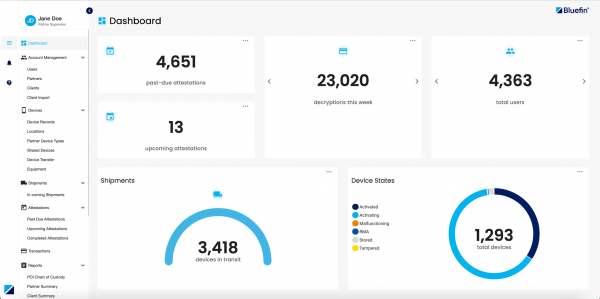 Bluefin's P2PE Manager is the only online chain of custody system for PCI-validated P2PE. Simplifying asset management has never been easier. Bluefin recently released a redesigned P2PE Manager portal (see our webinar) that offers enhancements to easily manage and navigate dashboards, notifications, devices, email templates, filters, forms and more. Additionally, the P2PE Manager integration with the ServiceNow platform provides greater ease of use, fewer logins, and robust reporting capabilities.
"The new P2PE Manager features enhancements that offer intuitive navigation and improved capabilities, allowing for efficient analysis of information related to devices, decryptions, transactions, and attestations. The redesign helps users to derive insights and commit to actions more quickly, and we are excited to provide our clients with a more intuitive and efficient user experience.," – Khairunisa Sharif, Bluefin Product Manager
Asset Management and Data Protection as Part of the Cybersecurity Strategy
According to the Cybersecurity and Infrastructure Security Agency (CISA), chain of custody plays an important role in security and risk mitigation for critical infrastructure sectors and their assets.
Chain of custody is a process that tracks the movement of evidence through its collection, safeguarding, and analysis lifecycle by documenting each person who handled the evidence, the date/time it was collected or transferred, and the purpose for the transfer.
Examples of assets include equipment, payment devices, infrastructure, and data. Maintaining the chain of custody increases transparency and supports risk mitigation by reducing the opportunity for malicious actors to tamper with the asset (e.g., equipment, data, or evidence). CISA states that "a break in the chain of custody occurring due to a non-validated organization or bad actor gaining custody or access increases the risk that the integrity or reliability of the asset cannot be restored." Businesses need solutions that provide data protection as well as a secure chain of custody to keep the integrity of data assets and to prevent the risk of data breaches.
Bluefin's patented P2PE Manager® is a 100% online system that offers organizations that have adopted PCI-validated P2PE an easy-to-use tool to administer their P2PE activities and ensure chain-of-custody compliance, enabling companies to get the full benefits of PCI scope reduction.
P2PE Manager Integration with ServiceNow
ServiceNow's cloud-based platform and solutions deliver digital workflows that create great experiences and unlock productivity for employees and the enterprise. They serve more than 6,200 enterprise customers worldwide, including approximately 80% of the Fortune 500. The ServiceNow integration enables businesses to utilize Bluefin's P2PE Manager natively from ServiceNow. Key features and benefits include:
Access daily synchronized partner, client, location, device, attestation, and shipment records directly in ServiceNow to gain visibility and understanding of company data.
Receive and activate devices included in shipments.

Update device status to remotely put devices in-service, move them to storage, or RMA devices for repair.
Create mandatory, annual device attestations to maintain PCI compliance.
Gain insight into devices with upcoming or post due attestations.
Update device audit next date to allow for merchant-specific processes with more frequent attestation periods.
View device chain-of-custody history for any device as tracking evidence; state changes are recorded and journaled to provide a device's lifecycle evidence for audit purposes.
Bluefin clients who use ServiceNow can get one point of record for all assets company-wide, including those that are part of their P2PE program. This avoids having to log into multiple systems to get information, while providing enhanced reporting capabilities.
To request the P2PE Manager app, download the P2PE Manager app from the ServiceNow store. Once approved, clients can install and configure the app within their ServiceNow instance. Clients then import data from Bluefin's P2PE Manager into the P2PE Manager app on ServiceNow. Upon successful completion of the data imports, configuration testing should be done.
Check out Bluefin's webinar, Introducing the New P2PE Manager, and earn more about P2PE Manager today.