KPMG's recently released study suggests a strong disconnect between consumers and retail executives
Consumers are wary of the increased frequency of cyber-attacks against retailers, and many are ready to walk away from their favorite retailers if a breach occurs. In fact, according to the 2016 KPMG Consumer Loss Barometer, in surveying 448 consumers, KPMG found that 19 percent said they would stop shopping at a retailer that had been a victim of a cybersecurity hack, even if the company took the necessary steps to remediate the issue.
In addition to those who would abandon the retailer entirely, 33 percent of the consumers indicated that fears of further exposure of their personal information would prevent them from shopping at a breached retailer for at least three months. When asked which factors most likely contribute to a customer not returning – or delaying a return – to the store, consumers surveyed cited a lack of a solid plan to prevent further attacks as a top factor.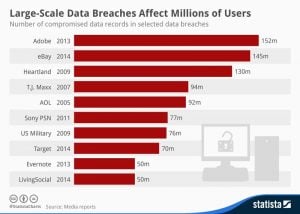 In conjunction with the consumer survey, KPMG conducted a survey of 100 retail senior cybersecurity executives distributed evenly between chief information officer (CIO – 25 percent), chief information security officer (25 percent), chief security officer (25 percent), and chief technology officer (CTO – 25 percent).  Despite consumer concerns, the survey suggests that the issue is not as top of mind with retail executives as it should be. Fifty-five percent say that they haven't invested capital funds in cybersecurity protection in the past 12 months – placing the industry third out of the four industries featured in the report. Additionally, 42 percent state that their company does not have a leader who is responsible for information security – again placing the industry third out of the four industries in the report.
Read here for the full press release….