Securing Mobile Payments with PCI-Validated P2PE
QuickSwipeTM | Bluefin's Mobile Point of Sale System
In December 2014, Bluefin became the first company in North America to receive PCI-validation for a P2PE solution for mobile payments. Bluefin's PCI-validated P2PE solution encrypts cardholder data within a PCI P2PE approved point of entry device so it does not reach the merchant or enterprise system or network as clear-text cardholder data – where it could be accessible to a fraudster in the event of a data breach.
Bluefin's Mobile P2PE solution interfaces with our QuickSwipe Secure Mobile Point of Sale (mPOS) system, utilizing the Nomad 2.0 PCI P2PE approved mobile swipe device. Through QuickSwipe, companies can choose to use our Mobile P2PE solution with just an iOS phone or tablet or can choose our QuickSwipe mPOS solution, including tablet stand, cash register and Bluetooth printer.
QuickSwipe mPOS: Securely Make a Sale Anytime, Anywhere
Turn your iOS device into a complete point of sale system with QuickSwipe. We give you everything you need to run your business securely and efficiently.
Customize QuickSwipe to your Business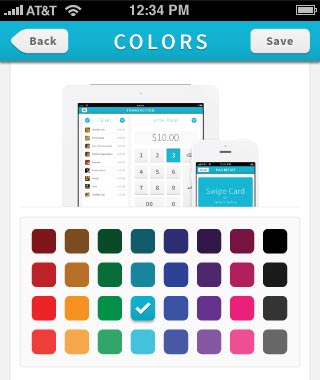 Use our intuitive administrative interface to customize QuickSwipe to your company, with your company's colors, information, and logo.
Easily Set Tips and Taxes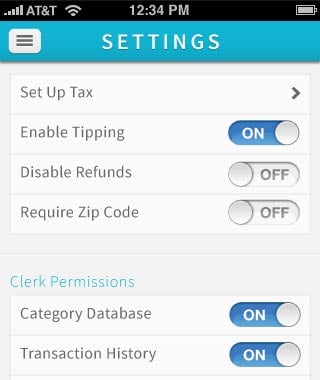 QuickSwipe allows you to set taxes for state, federal and county, and enter in tips, either as a dollar amount or a percentage of the bill.
Assign Administrators and Users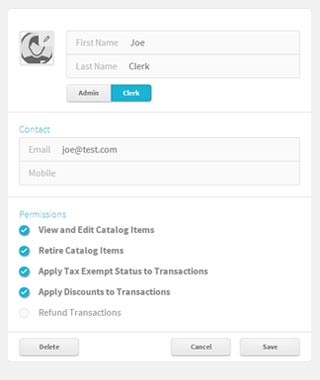 Add new users quickly and manage their permissions, from editing catalog items, to applying discounts to transactions, to issuing refunds.