Consumers want an Omni-Channel Shopping Experience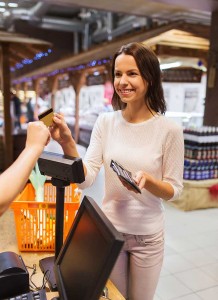 Consumers want the ability to purchase goods and services anytime, anywhere. In the 1990's, the new way to pay was online through Ecommerce payment pages. Mid-2000 brought the introduction of mobile payments, enabling shoppers to pay using their smartphone. And as "pay as you go" solutions have developed, convenience payments enabled by kiosks have also grown, allowing consumers to purchase electronics in airports and DVD rentals in grocery stores – all with a quick swipe of their credit card.
Bluefin offers a complete suite of products for today's omni-channel merchant. But where we differ from other providers is that each of our POS products is backed by our PCI-validated point-to-point encryption (P2PE) solution.
Retailers Maintain a Watchful Eye on Data Security
In 2014 and 2015, the vulnerabilities of retail point of sale systems were exposed through several high-profile data breaches. These breaches have cost companies hundreds of millions of dollars and rocked consumer confidence. In a large percentage of breach cases, malware was the culprit, infiltrating the retail system and stealing clear-text cardholder data to be later sold on the black market.
Bluefin takes a "devalue the data" approach to security. Retailers can choose to "defend the fort" by building stronger firewalls, alerts and systems – or they can implement Bluefin's PCI P2PE products to encrypt cardholder data at the point of entry, rendering the data useless to fraudsters.
The National Retail Federation and Forrester's report, The State of Retail Payments 2016, released in October 2016, finds that 93% of the 59 North American retailers surveyed said they expect to have P2PE implemented by the end of 2017.
View Article
Bluefin provides retailers and chains a full suite of PCI-validated P2PE retail payment solutions including:
Retail point of sale devices. Bluefin provides PCI-validated P2PE with retail payment processing through our PayConex Payment Platform or we offer PCI-validated P2PE only (no processing) through our certified partner processors and gateways. Our certifications with the EMV-ready Ingenico (iPP320, iPP350), ID Tech SREDKey and SecuRED, and PAX S300 and S500 devices provide retailers a wide variety of PCI-validated P2PE devices to choose from.
Mobile point of sale system. Our PCI-validated P2PE mobile solution, QuickSwipe, provides processing via an iOS phone or tablet with optional cash drawer, Bluetooth printer and tablet stand. QuickSwipe utilizes the Nomad 2.0 mobile device and is available as a stand-alone solution or an integrated solution with PayConex.
Call center for mail and telephone order. Call center and MOTO transactions are an integral piece of retail sales. For retail MOTO operations, Bluefin provides the PCI-validated P2PE ID Tech SREDKey which connects via USB and can be used with or without Bluefin's virtual terminal.
Kiosk and unattended. Bluefin's PCI-validated P2PE solution is an ideal security mechanism for unattended payment situations. The ID Tech SecuRED can be installed on kiosks and unattended systems to encrypt payment data upon swipe. The SecuRED is tamper-proof, preventing the installation of skimmers.
Retail Partnerships and Integrations
Bluefin's PCI-validated P2PE solutions are available to processors, acquirers, retail POS software providers and kiosk manufacturers through Decryptx. Decryptx enables your company to offer our PCI-validated P2PE products through your processing environment, allowing you to meet customer demands for enhanced payment security while preventing disintermediation from competitors. Decryptx is the only PCI-validated P2PE solution on the market that gives retail providers the ability to offer PCI-validated P2PE through their current platform.