The case study details Clinic 45's implementation of CharmHealth's EHR platform and Bluefin's integrated payments solution to meet patient needs and enable business scalability
January 11, 2022 – Atlanta, GA and Pleasanton, CA – Bluefin the recognized integrated payments leader in encryption and tokenization technologies to protect payments and sensitive data, has announced the issuance of a new case study with Bluefin partner and healthcare EHR provider, CharmHealth.
In 2015, Bluefin partnered with CharmHealth, an award-winning software platform, rated for usability and customer satisfaction by Gartner Digital Markets for cloud-based electronic health record (EHR), practice management and medical billing solutions, to provide integrated payments backed by PCI-validated P2PE through the company's CharmHealth platform.
Key to meeting the evolution of healthcare is a centralized software platform that allows clinics and practices to not only serve their patients – wherever they are – but to quickly scale with new features to make day-to-day operations simple and efficient.
The case study details the implementation of the CharmHealth platform, including Bluefin's integrated payments, by Clinic 45, a multi-location medical weight loss clinic based in Texas. Clinic 45 reviewed several EHR systems before they chose CharmHealth platform, which includes Electronic Health Records (EHR), Practice Management (PM) and Revenue Cycle Management (RCM) for independent medical practices.
"Charm hit everything that we were looking for," said Shlomo Adika, Head of Accounting and Finance for Texas Weight Loss clinic, a Clinic 45 franchise. "Whether it's keeping track of inventory or scheduling, it immediately made running our practices simple and efficient."

"CharmHealth's EHR is different from other EHR's. Besides being highly intuitive, CharmEHR allows users to easily customize features to meet the needs of various specialties," said Ranjani Rangan, Marketing and Partner Communications Strategist, CharmHealth. "Clinic 45 is a large, multi-facility high volume weight-loss clinic with multiple user profiles, and they chose CharmEHR based on ease of use, customization and flexible subscription options. This enabled Clinic 45 to manage their costs and meet their growth targets. We have seen Clinic 45 grow significantly in the last year."
As the preferred provider for point-of-sale and online payments in Charm's platform, Bluefin offers the highest level of security for payments with encryption and tokenization, protecting the healthcare brand and clients. The case study details:
The Clinic 45 business use case
Clinic 45's EHR selection process
Choosing CharmHealth and Bluefin integrated payments
CharmHealth and Bluefin benefits
As healthcare continues to be a cybersecurity focus, having an integrated payment solution, which provides speed and convenience but is also backed by the gold standard in POS payment encryption, benefits not only Clinic 45, but also CharmHealth. "It's the protection of the brand of course, but it's also the trust. We need our customers to feel safe with us and know that their patients' data is secure," said Rangan.
Morgan Jines, VP of Relationship Management and Inside Sales, added "CharmHealth and Bluefin have proved a perfect pairing. Combining Bluefin's flexible payment options, enhanced tokenization, and PCI-validated P2PE security solutions with the innovative products at CharmHealth has enabled a first-class client experience, providing peace-of-mind for healthcare service providers and convenience for patients. CharmHealth's holistic approach to product development prioritizes both service and security, and that is a message we at Bluefin love to hear."
Download the case study.
About Charm Health

MedicalMine Inc., a CA based company, is the creator of CharmHealth, an award-winning SaaS Digital Health software platform recognized for Customer satisfaction and Usability by Gartner Digital Markets. CharmHealth's mission is to empower medical groups with clinical tools and technology that improve provider experience and patient outcomes.
CharmHealth's integrated solution is built to provide superior patient care, reduce delivery costs, and provide exceptional access to patients' medical data. CharmHealth's suite of products includes Electronic Health Records, Practice Management, Patient Portal for Patient Engagement, Revenue Cycle Management, TeleHealth solutions, and an Instant Messaging solution for Providers, CharmConnect, all with complementary mobile solutions. For more information, visit www.charmhealth.com.
About Clinic 45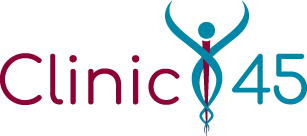 Clinic 45 is an independent Medical Practice, owned and supervised by Joseph E. Sleiman M.D., with a focus in the areas of Weight Management, Liposuction, Aesthetics and Internal Medicine. At Clinic 45 we strive to build long-term, partnering relationships built on trust and mutual respect. We believe in prevention of disease and promotion of healthy lifestyles for the whole family. We strive to be an efficient and cost-effective practice in meeting the needs of our patients during times of health, as well as in times of illness. We are dedicated to improving people's lives and helping to prevent obesity. We practice medicine as a team and value the contributions of all our staff in providing excellent medical care and service.
Clinic 45 provides consistent care and quality services to individuals based on their specific cosmetic needs. We aim to enhance the partnership between the patients and our medical provider, and we are also dedicated to maintaining the highest levels of professionalism, integrity, honesty, and fairness. For more information, visit clinic45.com.