Join Bluefin's Chief Innovation Officer, Ruston Miles, for our Digital Transactions webinar on October 20th at 1 pm EDT that will break down the basics of PCI-validated Point-to-Point Encryption and explain how the new PCI P2PE 2.0 standard simplifies the adoption of PCI-validated P2PE for merchants and processors.
In 2014, alone, there were 783 recorded data breaches involving more than 80 million consumer records. What have we learned from these major breaches? The primary attack vector employed by hackers has changed to point-of-sale (POS) malware in response to merchants becoming more PCI DSS compliant. Hackers are focusing on exposing data in motion by inserting malware into the merchant's POS that silently listens to the stream of clear-text card data flowing by and ships it out to the hacker's servers.
While EMV can protect the card data from being used to duplicate a physical card, it does nothing to stop hackers from stealing the EMV card data as it travels through a merchant's systems or networks. Hackers can still expose this data and sell it for use in card-not-present and online fraud.
In July 2015, the PCI Security Standards Council (SSC) released Version 2.0 of the P2PE standards, which builds on the earlier version to simplify the development and adoption of PCI-validated P2PE by enabling merchants, processors and other organizations to build their own PCI P2PE solutions.
To guide companies through Version 2.0 and its benefits, Digital Transactions is hosting a free webinar "PCI P2PE 2.0: What Does it Mean for Merchants and Processors?" on Tuesday October 20th at 1 pm (EDT). Led by Ruston Miles, Chief Innovation Officer of Bluefin, the hour-long webinar will include discussion of: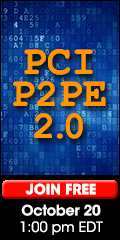 PCI P2PE Overview and Benefits
A Comparison of P2PE v1.x and v2.0
v2.0 Implications for Merchants
v2.0 Implications for Processors
Integration Model Overview
2.0 in Action – Case Study
We hope you will join us for our webinar!