It's no secret that new technology has changed the way consumers shop – mobile and virtual reality have created entirely new shopping environments. More than ever, digital experiences are allowing brands to tell more interactive narratives, offering their consumers unique opportunities to engage, click, browse and buy. In extension, retailers must continue to evolve their understanding of the tech landscape and shape their strategy in order to best satisfy their customers.

The retail industry moves at a fast clip. Couple where retailers are going in 2016 with the payment technology trends of 2015 – data breaches and malware – and you see an immediate need for retailers to have payment security top of mind. We're excited to explore these and other trends at next week's National Retail Federation BIG show – stop by booth #2244 to learn more about our PCI-validated Point-to-Point Encryption (P2PE) solutions.
Consumers are shaping the future of retail and the way we all shop. For example, now more than ever, retailers need to develop a strong online presence, as ecommerce is expected to hit $327 billion by 2016, up from $202 billion in 2011.
Every retailer would like to be the next Amazon – who accounted for 51% of all web sales over Black Friday, and 26% of all online sales in 2015 – but how does a retailer evolve? By listening to the powerful voice of the consumer, yes, but also through innovation. To innovate is to change, and adopting new technologies and implementing them into a current business strategy allows retailers to capture a share of the online market.
And there is no better forum for retailers of all sizes to come together and learn new ways to improve their business strategies than the NRF BIG Show. With over 30,000 domestic and international attendees, 600 exhibitors on the EXPO show floor, and over 100 sessions covering the hottest topics and trends, the stage is set for change in retail.
Here are some things attendees can expect to learn at next week's show.
Growth of Mobile POS Solutions
Forrester recently reported that by the end of 2016, 4.8 billion individuals globally will use a mobile phone, and smartphone subscribers will represent 46% of the global population, driven by accelerated adoption in Africa and Asia. In 2016, Forrester forecasts mobile and tablet commerce will reach $142 billion in the US and €86 billion in EU-7, representing respectively 38% and 32% of online transactions. And in the U.S., more than 30% of sales will have a mobile cross-channel component, meaning consumers will use mobile at some point throughout the purchase lifecycle, from product research to in-store interactions.
And in January the NRF has reported that for the first time ever, more consumers went online over the Black Friday weekend than showed up in stores. Retailers must keep pace with this shift, and as a result, we will see retailers acutely aware of the need to design their products and services around mobile phone and tablet devices. A "mobile first" mindset of the retailer is the shift we will see this year, and by the end of 2016 we will see more and more POS systems become mobile-abled.
The good news is that with all of this change, mobile brings with it some positive attributes (other than the promise of profitability). Mobile solutions are an efficient way for retailers to operate – taking up less room, storing more information (via the cloud) and they are more affordable now than ever as the advancements in cloud computing has driven down the cost of mobile POS systems – costing fractions of what a traditional POS system would cost. For larger retailers who need to purchase multiple systems for multiple stores, a staggering amount of money can be saved.
Innovation with Loyalty Programs
We've all heard that it's 3 to 5 times more expensive to acquire a new retail consumer than to upsell an existing one. Or that the top 20-25% of consumers contribute 75-80% of the margins and profits. Loyalty programs offer a huge opportunity to make the link and apply consumer activities toward repeatable processes and forecasted business objectives.
 Loyalty programs are considered a "best practice" for retailers today – whether it's an in-store purchase or online, all retailers must have a program to entice and incentivize their shoppers into returning to their store. In fact, loyalty programs have increased mobile payment adoption. Consumers are more likely to download an app and pay by phone or tablet if they are being incentivized to do so. A recent Samsung report states that 78% of consumers would increase mobile payment usage if they received reward points, and 53% of non-users would try the service if reward points were involved.
There are definitely key factors to consider in developing a loyalty program, and the NRF sessions will cover the ways to engage customers and employees with loyalty programs as well as how to cultivate relationships with today's consumer.
More Omnichannel Please
A recent review of the 2015 holiday shopping season reveals some powerful stats on omnichannel consumers.
91% of customers want to pick up where they left off when they switch between channels
50% of customers expect to be able to buy online and pick up in-store
64% of in-store sales are influenced by digital interactions and cite experiences like shipping speed as important to purchasing decisions
90% of those who shop in-store have visited the website; in-store shoppers will then make a second or third purchase online
Only 36% of customers would visit a store if no inventory information was available online
Those retailers that get on the omnichannel bus in 2016 will have the best chance of survival in an ever-changing economy, as online and digital-influenced retail sales are projected to reach $1.8 trillion by 2017.
Now – Tie These Trends with a Security Bow
The retail industry moves at a fast clip. Couple where the retailers are going in 2016 with the payment technology trends of 2015 – data breaches and malware – and you see an immediate need for retailers to have payment security top of mind.
Studies show that many retailers are thinking about payment security, and PCI compliance is top of the list in importance. Retailers must protect all customer information, including credit card numbers, or simply put, they won't have any customers.
Implementing technologies that are PCI-compliant like Bluefin's PCI-validated Point-to-Point Encryption (P2PE) solution can help to protect retailers from fraud.  In March 2014, Bluefin became the first North American-based company to receive PCI validation for a retail point-to-point encryption (P2PE) solution and the first North American-based company to receive PCI validation for mobile P2PE in December 2014.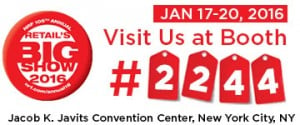 Learn more about Bluefin's P2PE and come see us at next week's show, booth #2244.